Nothing beats adding new fibre related knowledge to my brain. Evidenced by the number of knitting patterns and technique books, I have littered around my apartment. So when my favourite LYS, Where the Wildflowers Grow Gallery, mentioned they had a workshop where I could dye my own double knit sock blank, I jumped at the chance to attend. If you're not familiar with the term, a double knit sock blank is a flat piece of fabric that's machine knitted with two strands of yarn held together. You can purchase them undyed or pre-dyed, and the idea is that you would either knit directly from the fabric or wind them into cakes or balls.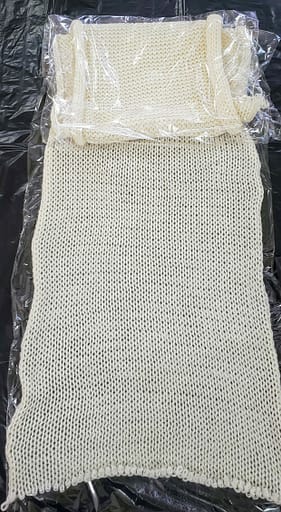 Brimming with excitement, I drove to Perth-Andover on a windy Saturday morning to dip my toes into a new experience. To start, we were all given our sock blank that had been soaking in a water and vinegar mixture so the dye could really penetrate the fabric. The dyes were already premixed for us, and I was happy with the variety of colours we were able to experiment with, so I decided to just go wild. Without thinking out a plan, I dipped my foam brush and began adding colour to the fabric, determining the placements as I worked my way up. In the end, I looked upon my sock blank, soaked and dripping with dye, colour everywhere and decided to add a speckled design on top of it. Because why the hell not? I was in full-on experimentation mode, and I loved it.

Once we'd ensured the fabric was thoroughly saturated with dye, we wrapped them up and put them to steam for a while so the dye could set in the fabric. This meant that I had some waiting to do, so I took the opportunity to browse the store and pick up some yarn goodies to replenish my stash. And if you didn't already guess, I ended up buying A LOT of yarn. (I write A LOT, but it's probably becoming my new normal.)

For next steps, we were told to wash the yarn in lukewarm water. I decided to do this part at home, and once unwrapped, I heaved a sigh of relief when I touched the material, and there was zero dye transfer to my hands. (This meant that the dye had successfully set in the fabric.) Washed it, laid it flat to dry overnight and woke up the next day ecstatic with the end results.

It's funny because typically the dyeing part would have made me nervous. Weirdly enough it didn't, and it's probably because I decided to just wing it and be at peace with the end results. Was I a little nervous? Yes! Because you're adding dye to white canvas and it seems pretty permanent. Did this deter me in any way from just having fun with it? No.

What did full me with apprehension was the thought of having to wind my blank into cake form since it is a two-stranded piece of material. Every single time I thought about it winding it, I was haunted by the vision of all the tangles such an endeavour would yield and just couldn't bring myself to it. In fact, I was fully prepared to just leave the blank as is and turn it into a decorative piece in my apartment, like a lovely runner for my coffee table. Luckily, it didn't come to that because one of my fibre friends offered to help me, and I readily accepted. It took both of our ball winders going simultaneously, clips and sheer will but we managed to get it winded up with ease.

As for now, I can't wait to get this yarn knitted up and finally try my hand at knitting Two At A Time (TAAT) socks. It's been on my list of techniques to learn for a while, but I think I'll tackle it once all the Christmas knitting is completed. In the meantime, I'll continue to gawk at these beautiful cakes of yarn until I cast them on my needles. Think I'll definitely be keeping this pair. It'll make a great Birthday present if I do say so myself.