Winter sucks! I mean I will admit that it is a beautiful time of year when the snow falls slowly, and everything looks so fluffy and nice but then the cold and ice sets in and it becomes nothing but a vast wasteland of nothingness where no one smiles anymore, and we all feel confined to the indoors. I've been in Canada for 6 years, and I've heard every bit of excuse/advice on how to "make the most" of the Winter time. And while it's comforting to think that so many out there actually have positive feelings about this time of year, I must state that I am not their target market for these conversations. I grew up with sunshine in my bones, and the inability to feel the warmth of it hit my face as I bask in its golden rays does nothing but add to my absolute disdain for this icy weather. Now I try to remain at least a bit positive, one must in these dire times, and so while I absolutely can not stand this time of year I am reminded that I can always find solace by dabbling in the fibre arts, and so I focus on knitting things that bring warmth and colour to my life. Mainly because it relaxes me but also because these items aid me in my constant focus to retain every bit of body warmth I can hold on to so, in the end, I shut my mouth and knit myself a sweater.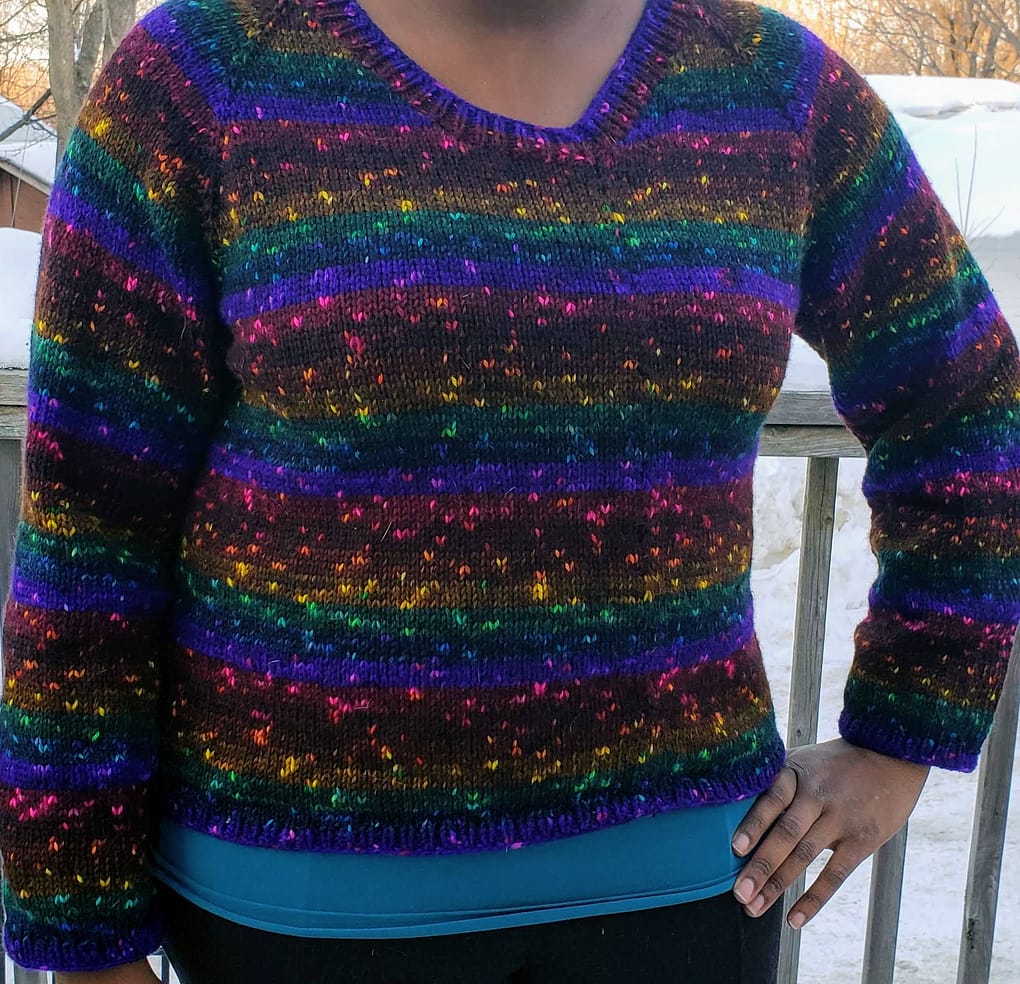 Now when it comes to this specific sweater, I have to admit that I did enjoy the pattern (It's called Brick, and it's free on Ravelry) but the thing that brought me and continues to bring me nothing but absolute joy… is the yarn. And this particular yarn makes me feel all warm and fuzzy inside because it was explicitly dyed for me and it exceeded way beyond my expectations.
To tell you about the yarn, I have to also tell you about the dyer because I fully believe that Nicole Frost, of frostyarn, imbues every bit of her lovely soul into the yarn that she creates and she managed to create an experience for me that I sometimes find hard to put into words. This was my first time engaging in a custom dyed yarn experience (I found her while drunk scrolling through Instagram), and from start to finish, I felt like she wouldn't be happy until I was pleased with what I was purchasing. Not only was she engaged in the conversation and open to answering all of my many questions but she also completely understood where I was coming from when I mentioned that I was concerned about neon or bright rainbow colours because they tend to look comical on my dark complexion. With all of the information in hand, she recommended we look at something more jewel toned and shared pictures with me of the work she's done in the past and how they were knitted up by some of her other customers. If there is one thing I like about shopping, it's about making as informed a choice as I can and being able to see examples and have her walk me through different ideas was so helpful and made me feel even more confident about my purchase.
When the yarn finally arrived, I couldn't help myself. The colours were so amazing that I actually took it outside and had a mini photo shoot on my deck to try to capture its jewel-toned rainbow goodness. But alas everything has its time, and it's place, and the yarn sat in the cupboard for awhile while other projects garnered my attention (I mean to be fair, my brain doesn't think about knitting sweaters in the summer) and I would take it out periodically just to stare and gently caress.
This winter though, I needed it. No scratch that, my soul needed it and I cast away all other projects and started the sweater with no hesitation. Honestly, it took me a month to complete, and that's the fastest I've ever knit a freaking sweater because I knew how much joy it would bring me to knit up these amazing colours against the stark, dreary and snowy white environment I'd been enveloped in since October.
Whoever says you can't custom make your own happiness, apparently doesn't have a sweater made from their own custom made yarn.