Hello faithful readers. I am back on the East Coast, and if I'm honest with myself it feels terrific! Okay, so I've been back for a while now, but I was suffering from the worst case of writer's' block. I had some ideas ready for posting that I thought was blog gold but then I got back, and I was hit by the worst summer cold, so the ideas started feeling outdated, and I decided not to post them. So without the creative juices flowing and the inability to put thoughts to digital paper I instead focused my fingers on knitting. I was slightly hoping that I would manage to get some projects done and knit away the block. And guess what? It worked!
The past couple of days I've been knitting and knitting, and after I post this and put my laptop down, I'm going to start knitting again. Weirdly enough, the fatigue has not settled in at all this summer, and my fingers have been working the needles over time.
Mostly, I've been making socks which blows my mind to think about because I have a whole blog post dedicated to why I didn't enjoy knitting them, but I've apparently gotten over that little issue. Because….
I knit the pair above for my partner using Ancient Arts Yarns in the colourway "West Coast Waterfall."
And then I knit this pair for a friend in Diamond DyeWorks (I lost the tag so I can't remember the colourway).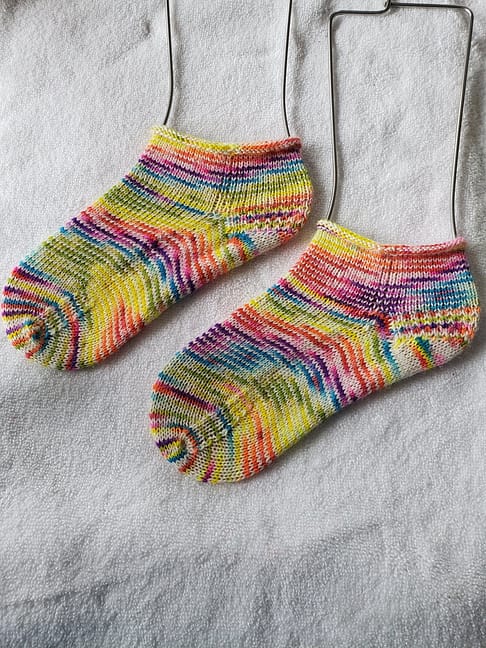 Also, I went to my favourite LYS in Perth and picked up the Uneek sock kit, which has been a unique experience (did you see what I did there?) and cast on for another pair.

I never actually thought I would fall victim to the sock addiction crave but I guess I'm on my way there. I should be fine. Don't send help.