There is a soft spot in my heart for the vibrant, electric city that is Montreal. The architecture, the food and the sound of the French language spoken with such exuberance never fails to provide a good time. Plus it is one of the places where I can practice my basic (and I do mean basic) French with wild abandon.
A couple weeks ago, I had the unique experience of hopping onto the East Coast Caravan with 55 entrepreneurs, from across Atlantic Canada, to attend Startup Fest Montreal. Yes, it meant leaving my hermit hole, my partner and Cosmo kitty for a couple of nights but this woman can not ignore the call of adventure, so I kissed them both goodbye (with promises to call and text), and off I went to board a bus at 11pm.
This trip to Montreal threw me headfirst into the kind of territory that manages to both terrify and excite me…the unknown (did you get chills too?).  Sometimes, I will admit, I'm a little anxious about new situations (I don't however let this anxiety hold me back- a trait I've cultivated over the years) and walking into situations that aren't familiar to me sometimes leave me feeling like I'm just too out of place. However, I can proudly say that I managed to put my anxiety aside and this trip rocked! (Which of course resulted in me having the time of my life – Dirty Dancing pun a little intended.)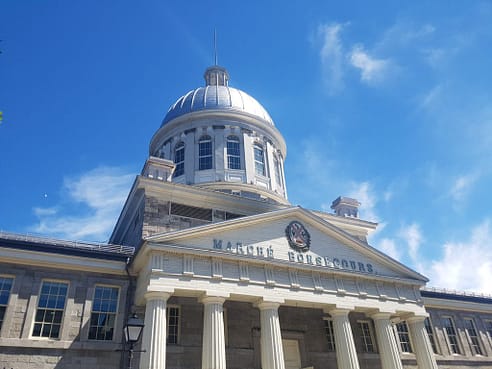 Startup fest was everything I'd hope it would be. Great talks by inspiring speakers under a flexible conference format (I appreciate when conferences deviate from the norm). There were hammocks, Virtual Reality demonstrations and a pretty cool astronaut. It was THE place to be in Montreal that week and almost everyone we spoke to asked us if we were there for Startup fest. (So it must be a big deal, right? Okay, it may have also been because I forgot to take off my nametag while exploring around the city but I guess the real reason shall just remain a mystery.)
The cherry on top of this event for me was the conversations I had with other attendees as well as the speakers themselves. I mean eeek! I got to meet Kimberly Bryant (founder, Black Girls Code) and  it  honestly made my entire day. Startup fest was definitely an unforgettable moment for me.
Okay! So remember how in my first post I mentioned that I can't quite stop talking about yarn? Well I have to say that the other participants on the trip got quite the earful on the topic and some even got to see my needles in action. (I don't know exactly how many times I said the phrase "I need to visit the yarn store" but I'm sure it got up to the double digits.)
Luckily, on the last day, two of the most amazing humans (I'll just call them R and V- you know who you lovelies are.) willingly accompanied me (They really are the best. I didn't even have to break out the rope.) on the journey to Espace Tricot. This store is everything I hoped it would be (and more) and I couldn't help myself from walking around in awe at the rows (upon rows) of glorious yarn. The employees there were also beyond helpful and one of them even took the time to regale me with the story of how Espace Tricot began. Colour me inspired! I've never met the owners but they sound like amazing, resilient women who saw a need and decided to create a unique setting within their community and beyond. (I can more than appreciate that.)
Needless to say, I had an absolute blast walking around the store (taking in the multitude of colourful yarns that seemed to suggest the presence of a rainbow) and even splurged and added some new (and familiar) yarn brands to my already monstrous stash. (Though in hindsight, I am kicking myself repeatedly for not picking up one of their popular Chevron Baby Blanket kits. I did learn that they are available online to my absolute relief. (I may or may not have checked as soon as I got home.) It never once occurred to me (honestly, it never does) that I have no more cupboard space within my apartment to store any more yarn and in the end, I had to buy 4 more containers in the hopes of taming the beast.
After an amazing experience at Espace Tricot, my awesome travel companions and I decided to take a walk down Saint Catherine's street for La Sainte-Catherine célèbre, which is known as the biggest open sky gathering of merchants in Canada. There were sidewalk sales, dance demonstrations, acrobats and music. (So many genres of music.) Our small but determined adventure group laughed, danced and conversed until we realized we'd walked the full length of the festival. (R and I both hit over 10,000 steps on our Fitbits. We were over the moon).
Later we headed back to our hostel to relax before walking to the harbor front for one of the best fireworks shows I'd seen in a long time and (There is something, both endearing and amusing, about standing in a crowd of adults and children oohing and ahhing at the sky. Most especially, the awkward shuffle that ensues when the fireworks are over and it's time to go home.) it was a really pleasant ending to an amazing trip.
Getting on the bus the next day was a bittersweet moment. Yes, I was super excited to get home to my two loves but I was also sad to leave a city I'd only partially explored and people I'd only gotten to spend a small amount of time with. Plus there was a 7 hour bus trek (it turned out to be much longer due to unforeseen circumstances) to settle in for. (Luckily, I had the perfect compact knitting project to work on so I was more than occupied.) I guess even this wandering hermit (what an oxymoron!) knows how to have a good time.