Hi Everyone,
Thank you so much for taking the time to check out my passion project; Wanderful Knits.
I've been thinking about blogging for a long time but found myself too chicken to make the leap. Inspiring others is never an issue for me, but sometimes I find it a little hard to inspire myself to grab life by the proverbial horns and take a risk. If I'm being really honest, I didn't think it mattered what I had to say and the fear of putting myself out there left me in such a daze that I closed the door, on what could potentially be a new adventure for me, before it even opened. However, what I've learned by surrounding myself with mavericks, radical go-getters and ass-kicking entrepreneurs is that every new adventure can either leave you whimpering on the floor clutching a half-eaten jar of peanut butter or it can make you bold and more susceptible to taking those risks that scare the life out of you. Proud to say that I've chosen to let my adventures lead me to the latter and the jar of peanut butter has been left untouched. (Mostly. I mean a girl still has to eat, and peanut butter sandwiches are great in a pinch, but I digress.)
I've noticed that I talk about knitting a lot (as in all the time). In just 3 short years it has become a passion that has woven itself into every fibre of my life (get it?) and has assisted me on my path to bringing balance to my mental health. Figuratively, I like to think that yarn is my obsession and knitting is my personal rehab and I'll be the first to admit that I can get quite annoying about it. (I'm actually amazed that no one has strangled me with a skein yet, though it wouldn't be a bad way to go. It would be sort of kismet actually.) So I thought to myself, "you're clearly passionate about this and you can't stop talking about it; so why don't you write about it?" (Especially since I already bring it up in the most random of moments, places and conversations.) Hopefully, this blog will serve as a platform for me to combine my passion (slash fanaticism) for knitting along with my burning desire for travel and the experience of immersing myself into a new or familiar environment. Also, it gives me another place to talk about yarn. Wonderful, glorious, comes in a variety of colours, weights and types yarn. Did I mention I was obsessed?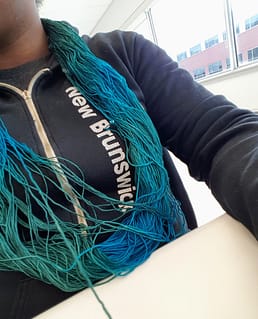 So I hope you join me on this adventure filled with mistakes, laughter, exploration and lots and lots of yarn.