So after I wrote my previous piece on the blog, I made a promise to myself that I would engage in some self-reflection and work on learning to be more patient. Identifying the issue was a significant first step, but I knew I wasn't going to accomplish any growth by just sticking with the status quo, so I decided to do the work.
Easy to say. Hard to do. But I did some research on ways to incorporate more patience into my life, and since I always have a project on the go anyway, I decided to kill two birds with one stone and mix in my knitting to help me along the way.
But first, I had to come up with a plan. It was all good and dandy to say that I was going to exercise more patience when it came to my knitting but a whole other ball game to figure out exactly what I needed to do to accomplish that goal. In the end, I had to ask myself the question "What kind of project has always humbled you?". As quickly as I asked it, the answer came to me, "Shawls".
Now this felt very kismet since I'd already been playing around with the idea of doing a summer series on various Shawl projects but didn't think I'd have enough time to get it off the ground. It gave me the perfect opportunity to pivot on the idea while still giving myself a challenge. I'd work on the shawls I wanted to knit up on my list for this summer, but since my goal was to take my time and slow down the process, I no longer had to worry about the time aspect. And before anyone asks, I'll say right now that I love knitting shawls. I'd even say it's one of my favourite items to knit. However, I have a habit of liking shawls that are quite big and sometimes they have stitch patterns that are quite repetitive, so by the time I get halfway through my fingers get itchy, and I usually find myself just pushing towards completing it so I can move on to something else.
This time, however, would be different, and it was. I carefully combed through my Ravelry and found the Geology Shawl pattern sitting in my queue, selected my Log House Cottage Yarn from my stash, and away I went on my journey to add more mindfulness to my knitting. My little effort to think more about the process, the feel of the yarn, and the craft and put it above my need of having a completed project.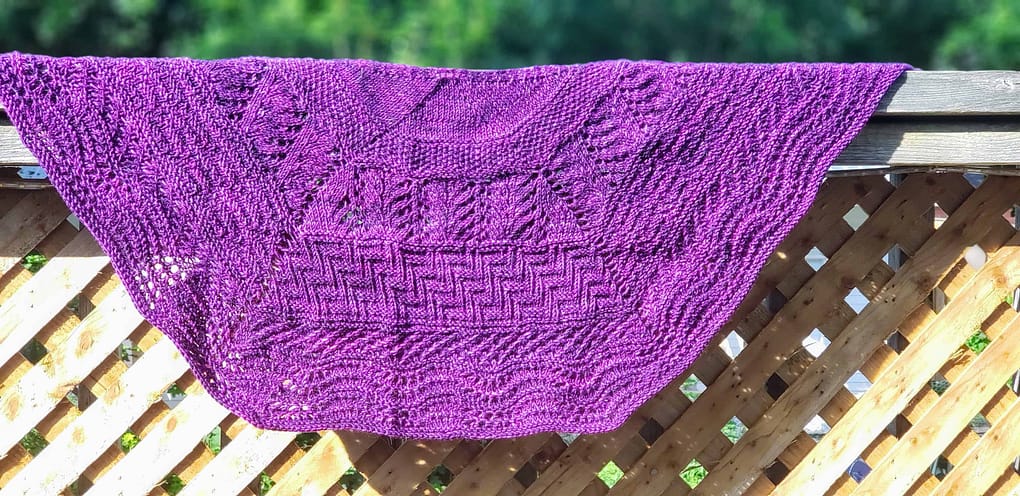 And I'd say so far; I'm doing well. It was a struggle at first, but with every loop, stitch and row it served to remind me why I fell in love with this craft in the first place. Sometimes the drive to posts steady content consumes me, but I have to remember that I am not a machine meant to pump out pretty things quickly. I'm a human being who is crafting a beautiful item with her hands. That is not something that should be hastened or rushed. Every moment of it should be appreciated and respected.