For years, I've had to steek on my knitting bingo card and never got to mark it off because the mere thought of cutting my knitting made my hands sweat profusely. This weekend, I got to knock it off my knitting bucket list because I steeked, and it didn't go awry.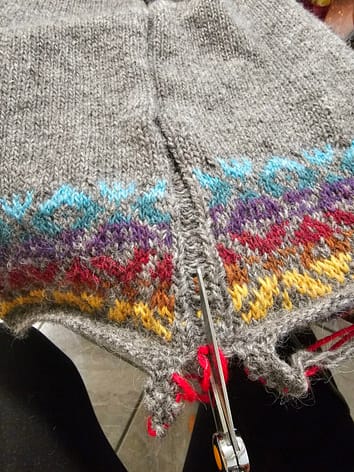 The Loford pattern by Lopi that I'm working on called for steeking, and even though I knew it was coming, I still wasn't prepared for it. If you're not familiar with that steeking, it's the process of adding extra stitches to a garment knit in the round for the purpose of cutting it to create an opening or attach a piece. For example, knitting a cardigan in the round and then cutting open the steek stitches at the front to make the opening. 
Sounds terrifying, right? Well, I won't lie to you; it was! Thank goodness I had some amazing fibre friends around to cheer me on and remind me that I was doing okay throughout the process.
I began by machine sewing the stitches to each side of the steek twice to anchor the stitches in place so they wouldn't unravel after I cut the steek stitches. You can also do this with a crochet needle and yarn, but my pattern said to sew it, so that's what I did. After sewing the side stitches, I carefully took a sharp pair of scissors (this is crucial) and cut up the length of the front, making sure to cut the steek stitches only. After the final cut, I breathed a sigh of relief and realized it wasn't as bad as I thought. 
Now that the hard part is over, I'm working on the button band and attaching the sleeves. The finishing will take some time, but I foresee it being ready by Fall. I'm also signed up for a steeking class at the PEI Fibre festival to broaden my understanding of the technique and build upon my skill set, so you may see steeking incorporated into future designs.
The biggest thing I learned during this experience is not to let the thought of something scary hold you back from trying it. Sometimes the things we find so daunting in our heads are vastly different in reality. So take all the leaps and try everything you can in your fibre journey because the sky is the limit.
I know what you're thinking, would I steek again? And the answer is a resounding yes. Sign me up to never have to purl on the wrong side again.