It's Halloween! Everybody scream! I've been planning this costume for quite some time (mostly because I had to knit the hat and make the hair ties) but I present to you, Louise Belcher. The sarcastic, lovable, mischievous younger sibling from the show Bob's Burgers. I just had to go as Louise because we are so much alike and she is, hands down, my favourite character on the show. (I named my bike after her.)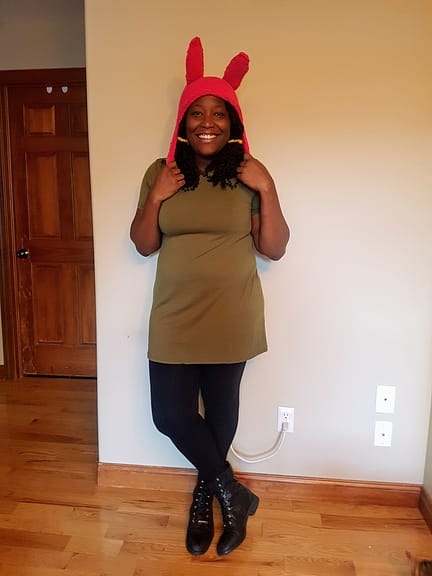 Okay now down to business! I mean where do I even begin? I have been quite the busy lady. Last weekend I took the beautiful trek down to Saint Andrews for my first ever Knit East, and I thoroughly enjoyed it. While I didn't sign up for any classes, I still think that I had a great experience. (overall) I drank mimosas, had the most delicious fish 'n' chips, caught a glimpse of The Yarn Harlot and of course stimulated the fibre economy by dropping buying yarn at the marketplace.
I know I don't need anymore, but I really couldn't resist picking up something. I tried to be good but the colours just called to me, and you guys know I can't resist. (Seriously, I'm bad at it.) Plus, they were from some of my favourite East Coast dyers, so I had to get them.
On the knitting side, I've managed to, brace yourself, finally cast off the socks. I have a full pair now, and they look like twins, so I'm happy. (and relieved) They got done just in time for the start of November when I thought I was going to be knitting them well into December. (Feeling pretty proud of myself.) After I give it a good blocking, I'll post a photo on the next blog post so you can see it in its final glory.
So for now, you can catch me working on my campsite pullover and the Ishneich shawl.
This week is going to be a hectic one since I'm travelling but, knowing myself, I'll probably fit in a yarn related event somehow to retain balance. Tomorrow, I'm hopping on a bus to Boston, so there'll be lots of time to work away on the remaining projects. (Only short one Christmas present now and it's a hat. So not even worried.)
While on the bus I'm hoping to practice working on my public knitting skills during this trip. I love knitting in public, but sometimes, I have a hard time stopping myself from thinking mean thoughts. It mostly happens when I'm trying to count my stitches and the people around me won't stop talking. Sigh, I'll get there eventually.
Talk soon!